News Room
Fall Health Seminar
September 13, 2012
Details soon!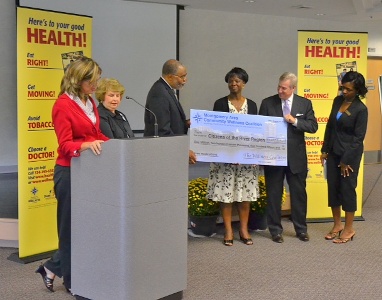 Wellness Coalition Instrumental in Saving Over $1 Million in Medication Costs
On August 19, 2011, The Montgomery Area Community Wellness Coalition held a ceremony to highlight a noteworthy accomplishment. In the past year (2010-2011), Wellness Advocates (Case Managers) provided uninsured or underinsured patients in the River Region with $1,207,515 worth of free medications from pharmaceutical companies and local community partners such as Catholic Social Services and First Baptist Caring Center.
Accessing free medications helps patients to remain healthy, leading to reduced health care costs for River Region care providers and producing a corresponding positive effect on the local economy. In addition to medication assistance, Wellness Advocates provided education on the management of chronic diseases and links to community clinics for ongoing care.
During the course of the commemoration ceremony, Dr. Cynthia Bisbee (Wellness Coalition Executive Director), Ghandi Williams (Case Management Supervisor) and Ashley Lough (Board President) presented a symbolic "check" for $1,207,515 made out to the Citizens of the River Region to Dr. A. Z. Holloway, Chair of the Joint Public Charity Hospital Board. Montgomery Mayor Todd Strange was among those present.
The Wellness Coalition marks this as a significant achievement in the continuing quest to improve health care access for all. This accomplishment is just one of the ways the Coalition and its many community partners are playing a valuable role in bettering our community's health.
Anyone interested in knowing more about the Wellness Coalition may call 334-293-6502 or email charlotte.white@adph.state.al.us.
**********************************************************************************************